Hong Kong Tower is a powerful 5 reel online slots game based on the beautiful city of China and its amazing skyscrapers.
The view of the city from thousands of feet above looks very realistic and the sounds of wind pressure make you feel like you are really there. The game has some interesting bonus features that help you maximize your wins. There is a jackpot level where you can win huge stakes of money based on your betting too. To place your bets, you need to choose an amount starting with 10p and can go up to £200 per spin with various bet values to pick from.

About the developer of Hong Kong Tower:
This amazing metro city-based online slots game was developed by ELK, one of the leading casino solutions provider in the world with lots of wonderful games to pick from. All their games offer unique experience and features that enable the players to win huge money in a secured environment.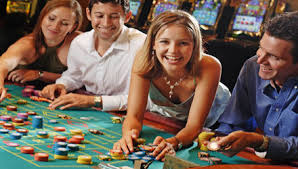 About the game
Golden 7, blue diamond, lotus flower and a bonsai tree along with some lower value Chinese shapes are the symbols of this online slots game. 7 in gold is the symbol with the highest payout of 1500 times the stake, followed by the diamond that gives 1000 times, 500 times with lotus and 200 times the stake with five bonsai symbols. The bonus symbols of the game are its logo carved in gold along with two yin-yangs, one in blue and the other in red color.
Wheels of the sky: This is the bonus game of this online slots that is triggered when three or more red bonus symbols appear during a spin. Four or five red bonus landings also give you one or two extra lives for this jackpot round. There are three levels here each with a huge sky wheel on top of three different towers. The first wheel has high stakes of 2000 times, the second one offers 10,000 times max and the final wheel has a whopping 50,000 times as the stakes that you can win if the pointer stops at this number. You can imagine the amount when you are playing with higher bet amount of £200.
Mystery Symbol
: The game logo is the wild symbol and is referred to as mystery becJause you never know what symbol it reveals into once the reels stop. It can reveal any symbol including blue bonus but not the red one.

Summary
: If you are playing this metro city themed online slots game then you can eJxpect to win money as huge as the city of Hong Kong too. Definitely, the kind of game you do not want to miss, especially if you are playing to make serious money.