The Jurassic World slot machine satisfies a peculiar group of players with a penchant for adventure themed online slots. Jurassic World meets this criterion, but with a little twist in the tale.

Prehistoric Creatures Live In Jurassic World Slot Machine
If you are familiar with the 2015 blockbuster movie of the same name, you would know that the main features of the film were the dinosaurs. Jurassic World slot machine tries to 'wow' you with its graphics and animation which consist of scenes from the movie itself.
Even the soundtrack of this slots is taken from the movie and in the backdrop, you get to see scenes of the parks mega-structures. Dinosaurs are the low-value symbols of this game and these prehistoric creatures include; a Pterodactyl, a Stegosaurus, a Tyrannosaurus Rex and a Velociraptor.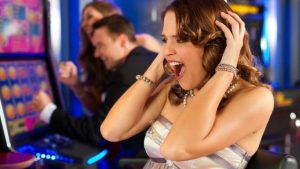 Running Wild With Jurassic World
There are four high-value symbols in Jurassic World slot machine and these icons consist of the adventurers in the tale. Owen, Simon, Nick and Clare make up the four high-value symbols and the Wild symbol is represented by the 'Jurassic Park logo'. This icon will replace other symbols on the reels and help you out in securing winning combos. However, it will not substitute the Scatter symbol that is represented as a 'Mosquito in amber'.
Decent Payouts In Jurassic World Slot Machine
The 'Free Spins' Bonus Feature is one round where you can boost your overall winnings. This feature is activated when you are lucky enough to land a minimum of three 'Mosquito in amber' Scatter symbols. When you are successful, you will be given any one of the three Free Spins games for you to win extra cash rewards.
These three Free Spins include;
The Gyrosphere Valley round where you gain a multiplier as well as 10 Free Spins.
The Creation Lab where you also get 10 Free Spins and multiple chances to strike winning combos.
The Raptor Den, where like the other rounds, you are given 10 Free Spins and the Scatter symbol acts wild to boost your chances of earning more winning combos.

What do the payouts look like?
You can also trigger a Wild Scatters Bonus round if you are lucky to match up two Scatter symbols on one spin. The Scatter icons will become 'wild' and further increase your chances of gaining winning combinations. There is a return to player (RTP) of 95.45% and if you are lucky to get an 'Indominus Rex' icon, you can have a multiplier of 1000x to your winnings.