Go Crazy With Blackjack Single Deck Touch Casino Game At our Blackjack Pay by Mobile
When it comes to the most popular casino table games, Blackjack is the name that you commonly get to hear about. There are many variants of this game that is now available online. But there is one that particularly made for smart touchscreen devices. Blackjack Single Deck Touch is the game that allows you play with a touch of your fingertip. In this Blackjack pay by mobile variant, you can experience a professional graphics with six decks of cards on the table. The betting in this game has a limit from £1 to £500 per turn. This is playable on all your touchscreen devices so you can gamble while on the move. It's time to make a move with Strictly Cash.

Use Our Marvellous Blackjack Pay by Mobile Bonuses For Achievement In Online Gaming - Register Now!
This ultimate touch-enabled Blackjack pay by mobile game was developed by NetEnt. When it comes to choosing a game with unique features and high-quality experience, NetEnt is the name that first comes to mind. They have over two decades of experience and are true pioneers of online casino gaming.
The Basics About Blackjack Pay by Mobile Game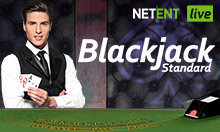 This Blackjack pay by mobile variant follows the basic rules of the game where you can win when you beat the dealer's hand. The points you need to score is 21 or closer to it than the dealer. But you must ensure not to cross this point limit as it will get you a BUST and you will lose the hand. Likewise, if the dealer gets a BUST, you will win the hand. If you are lucky enough to get 21 points from the very first cards, then you can win the game's maximum reward of three to two on your bet. There are other options to help you win enhanced rewards too. They are double, split and insurance that are activated on specific scenarios during the game.
Split Hand:

Every game where you get two identical cards when the cards are dealt, you will get an option to split that hand. Once you split, both the hands receive a second card and the game proceeds as usual. So you can get to win two hands at a time with this feature of Blackjack pay by mobile

game.

Double Down:

When the combined value of your initial two cards makes nine, ten or eleven, this feature can be used. Here, your bet amount will get doubles, however, you will receive just one final card. Based on that card you could win or lose a game but for the kind of payout you can win, it is worth taking a chance.

Summary:
This Blackjack pay by mobile is the best variant for all your touchscreen-enabled devices. The game also has exciting features to help you win the chance to get some impressive rewards.